With the continued drought in the states CIG serves, as well as the continued impact of wildfire and the resulting burn scars, we wanted to alert you to the high potential for losses due to landslides and mudslides. These events are considered "earth movement" and excluded under policies provided by CIG.
As you can see in the map below, all of CIG's operating states have been impacted by wildfires in 2021. While we are thankful the impact to CIG is minimal thus far, we recognize you might have clients that have been impacted.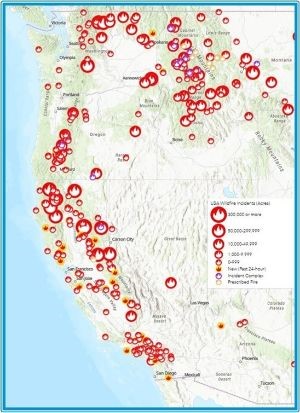 With the highly-anticipated arrival of the rainy season in the Western region next month, it is possible that places affected by wildfire and burn scars over the last several years could experience flash floods and debris flows. These events may not be insured without a policy from the National Flood Insurance Program (NFIP). The NFIP policy includes, in the definition of flood, "mudflow and the unusual and rapid accumulation or runoff of surface waters from any source."
If you have not already done so, we encourage you to review all of your clients located in areas that are potentially at risk for additional impacts from wildfires and burn scars to ensure they are adequately insured. We prepared a list of Winter Preparedness Tips that might be helpful to review with your clients around this time of year.
As we continue to follow through on our commitment to improve your experience with CIG, we remind you that in June, we rolled out our Difference in Conditions Endorsement for use with California Homeowner and Dwelling Fire policies. This endorsement supports new and renewal insureds with properties in areas with higher wildfire risk.