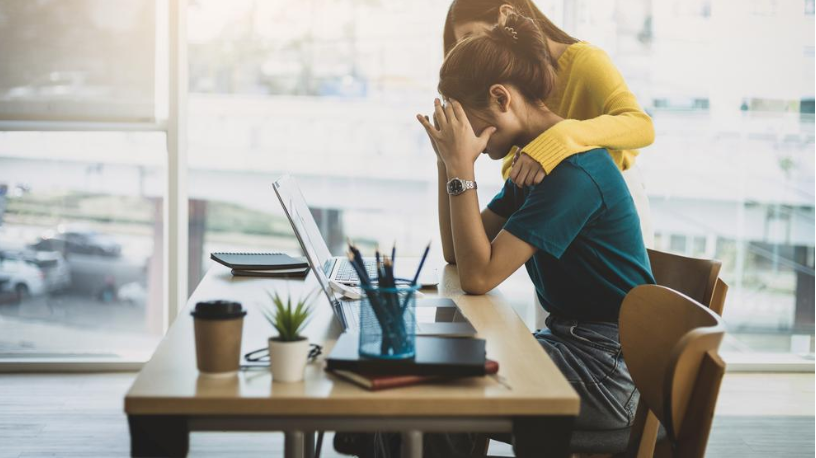 The mental health of employees consistently ranks as the biggest challenge facing businesses today. According to a report from the Office of the U.S. Surgeon General:
76% of employees report at least one mental health condition.
84% say their work environment contributes to mental health challenges.
And it's not just the potential health care costs. Mental well-being is vital to employee recruitment, retention and engagement. The report found that more than 80% of employees plan to prioritize working for an employer that supports their mental health.
Due to access and affordability constraints, not all organizations can provide a full array of mental health benefits. But there are still cost-effective strategies to support your employees, including:
Communicating and demonstrating support
Allowing flexibility
Creating social connections
Communicating and demonstrating support
Even with a spotlight on mental health, psychological issues continue to be underreported. Nearly 65% of employees think that talking about mental health challenges would put their jobs at risk, according to the Centers for Disease Control and Prevention.
The saying "Talk is cheap" often has a negative connotation. In this case, however, talk is valuable. It costs little to communicate openly about mental health. But creating a supportive work environment can pay huge dividends.
Workplace communication directly impacts mental well-being, according to Inc. magazine. It demonstrates compassion and commitment to better mental health.
Opportunities to increase communication include:
Encourage leadership, HR and managers to regularly discuss mental health.
Use anonymous surveys to uncover mental health challenges and solutions.
Display mental health resources in the office and online. Include apps, websites, phone numbers, health care providers and other resources that support mental health.
When discussing mental health, do not force employees to participate. Some employees will choose not to discuss personal challenges. Your company's communication effort is still important. It displays empathy, increases awareness and empowers employees to discuss their needs whenever they are ready.
Allowing flexibility
Improving flexibility is another low-cost way to proactively address mental health. Ideas include:
Encourage breaks throughout the workday.
Allow autonomy over work schedules.
Offer remote work, when possible.
Provide mental health days.
As with talking about mental health, flexibility requires an organizationwide show of commitment. Executives and supervisors must demonstrate the behavior they want others to follow.
Medical appointments often occur during the workday. Supervisors can demonstrate support for flexibility by marking appointments on their team calendars and communicating to staff that they are taking care of their needs.
Another way to demonstrate flexibility is to point out alternative solutions. For example, if your mental health benefits don't include coverage for psychiatrists, psychologists or counselors, call attention to free or reduced-cost options.
Inc. magazine recommends highlighting sliding scale therapy. Some therapists will see patients for a price based on income. This could open the door to treatment for employees who otherwise couldn't afford therapy or want to work with an out-of-network provider.
Creating social connections
Loneliness negatively affects mental health. It increases the risk of stress, anxiety, depression and insomnia. Unfortunately, loneliness is prevalent in the workplace. More than 80% of employees in a worldwide survey said they feel lonely at work, reports the Society for Human Resource Management (SHRM).
Increasing social connections in the workplace is a low-cost way to combat loneliness. It pays dividends for employees' mental health and your organization. SHRM reports the following data for employees with strong friendships at work:
76% are inclined to stay with their employer.
80% have a strong sense of belonging at work.
85% say it helped their career.
There are many cost-effective ways to strengthen workplace relationships. Examples include:
Encourage collaboration within and across departments.
Publicly acknowledge events big and small, including birthdays, work anniversaries, job promotions, sales targets, etc.
Create support groups or employee resource groups where employees can safely share experiences and solutions.
Coordinate volunteer opportunities in the community.
Promote employee-led charitable events, such as a 5K awareness walk or a food bank fundraiser.
Vital to your business
Your employees' mental health is essential to the health of your business. Research shows that employees with positive mental well-being demonstrate increased innovation, decision-making, collaboration, productivity and physical health.
Addressing mental health doesn't have to break the bank. For more ideas, talk with your benefits adviser. They can help you explore affordable solutions that support the mental health needs of your employees.