Updated: Wednesday, May 27th, 2020
KPA has provided an interactive map that displays guidance on returning to work, by state.
You can click on each state for more guidance. Click on "reopening" to find additional details. Some states are providing more information than others.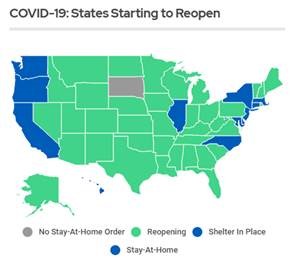 To view the interactive map, click here.
Updated: Tuesday, May 26th, 2020
Our client HR resource, ThinkHR, created a handy return to work checklist for employers to reference when preparing to welcome back their staff to their place of work.
Check it out…
return-to-work-checklist-ThinkHR
Updated: Wednesday, May 20th, 2020
Notice of Extended Grace Period for Insurance Premium Payments Due to the Disruption Caused by the COVID-19 Pandemic
On March 18, 2020, in response to the substantial disruption caused by the COVID-19 pandemic, Insurance Commissioner Ricardo Lara issued a Notice requesting all insurance companies to provide policyholders with a grace period of at least 60 days to pay insurance premiums. The March 18 Notice was directed to all admitted and non-admitted insurance companies that provide any insurance coverage in California including, life, health, auto, property, casualty, and other types of insurance.
As many state and local government "stay-at-home" orders have been extended through May, the COVID-19 pandemic continues to substantially impact the public's ability to carry on its normal course of business. Accordingly, by this Notice, Commissioner Lara is now requesting that all insurance companies provide their policyholders with an additional grace period to pay premiums.
Commissioner Lara hereby requests that the grace period to pay insurance premiums be extended until July 14, 2020, which is 60 days from the date of this Notice. Accordingly, insurance companies should not cancel or non-renew a policyholder for failure to pay insurance premiums during this time period. On or after July 14, 2020, if a consumer has not been able to pay their outstanding premiums or has not worked with the insurance company on an alternate payment schedule, insurance companies should provide consumers with at least 10 days' prior written notice of cancellation. This written prior notice should include the effective date of the cancellation and the reasons for the cancellation in a manner consistent with the requirements of the Insurance Code for the particular line(s) of insurance at issue.
Nothing in this Notice prevents an insurer from providing a policyholder with a grace period longer than 60 days. Insurers that choose to offer longer grace periods must do so in a nondiscriminatory manner and may not consider the claims experience of the policyholder. Insurers are especially encouraged to work with individual policyholders who have been acutely impacted by COVID-19 and are unable to timely pay their premiums.
In addition, Commissioner Lara renews his request that all insurance agents, brokers, and other licensees which accept premium payments on behalf of insurers take steps to ensure that customers have the ability to make prompt insurance payments. These additional steps should include, at a minimum, alternate methods of payment, such as online payments, to eliminate the need for in-person payment methods, in order to protect the safety of workers and customers.
Policyholders are advised that this grace period is not a waiver or forgiveness of the premium; it is only an extension of time in which to pay premiums. The grace period in this Notice applies only to cancellation or non-renewals attributed to a failure to pay premiums during the applicable grace period. If a policy is to be cancelled or non-renewed for any other allowable reason, the cancellation or non-renewal may be made pursuant to statutory notice requirements and for legally-recognized reasons.
Updated: Tuesday, May 19th, 2020
As businesses prepare to reopen offices and workplaces, ThinkHR is getting thousands of questions regarding the responsibility to provide safe and healthy working environments. Join them for their upcoming webinar on Thursday, May 21st as they discuss what employers can do to prepare their workplaces for the return of employees.
Can't make the webinar? Register here and we'll send you a recording.
*Only for current clients of BIS
New in ThinkHR: Pandemic Response Courses
Updated: Thursday, May 14th, 2020
New in ThinkHR: Pandemic Response Courses
In our ongoing efforts to help employers better manage the impact of COVID-19, we are excited to announce several new online employee courses NOW available in ThinkHR Learn.
Our new Pandemic Response catalog, curated by our internal experts, includes ten courses ranging in topic and audience. You can view the full catalog here, including course descriptions, duration and intended audience.
Download Pandemic Response catalog>>
This special Pandemic Response catalog is available now through June 30, 2020.
To start assigning the courses to your employees, please login to Learn, then click on the new "Pandemic Response" icon.
Provided by ThinkHR
Updated: Tuesday, May 12th, 2020
Register now for our next COVID19 BenderU Webinar: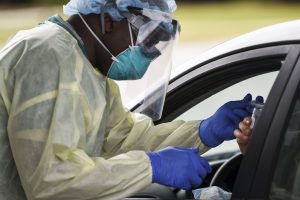 Update From the Experts: Executive Order Makes COVID19 Claims Compensable Under Workers' Compensation
Governor Newsom has created a rebuttable presumption that COVID-19 claims are covered under Workers' Comp. This Order is effective through July 5, 2020 unless pending legislation supersedes this order. Please join us as we discuss this latest development in how COVID-19 claims impact California employers.
Thu, May 14, 2020 10:30 AM – 11:30 AM PDT
_____________________________________________________
Updated: Thursday, May 7th, 2020
New I-9 Policy Due to COVID-19
The Department of Homeland Security (DHS) has issued a temporary policy to allow employers to accept expired List B documents when completing the Form I-9 beginning May 1. This policy is intended to account for the fact that many people are unable to renew their driver's licenses or state ID cards at this time due to stay-at-home orders. While some states have extended the expiration of driver's licenses and state identification cards, which are common List B documents, others have not. The temporary policy addresses both situations.
Temporary Extension for Expired List B Documents That Have Not Been Extended

List B documents that expire on or after March 1, 2020, and have not been extended by the state may be treated the same as if the employee presented a valid receipt for an acceptable document for Form I-9 purposes.
If an employee presents their driver's license that expired on or after March 1 and it was not extended by the state, employers should:
Record the documentation information in Section 2 under List B, as applicable; and
Enter the word "COVID-19" in the Additional Information field.
When the DHS ends this temporary policy, employers must require the employee to provide a valid unexpired document within 90 days. (The replacement for the expired document is preferred, but employees may choose to present a different document or documents to satisfy the I-9 requirements.) At that time, in the Section 2 Additional Information field, employers must:
Record the number and other required document information from the actual document presented; and
Initial and date the change.
Procedure for List B Documents That Have Been Extended

If the employee's List B identity document expired on or after March 1, 2020, and the issuing authority has extended the document expiration date because of COVID-19, the document is acceptable as a List B document for Form I-9 (not as a receipt) during the extension timeframe specified by the issuing authority. In that case, the employer must:
Enter the document's expiration date in Section 2; and
Enter "COVID-19 EXT" in the Additional Information field.
Employers may also attach a copy of a webpage or other notice indicating that the issuing authority has extended the documents. Employers can confirm that their state has auto-extended the expiration date of state IDs and driver's licenses by checking the state Motor Vehicle Administration or Department of Motor Vehicles website.
The employee is not required to present a valid unexpired List B document later.
E-Verify

Employers participating in E-Verify should use the employee's expired List B document number from Section 2 of the Form I-9 to create an E-Verify case as usual within three days of the date of hire. Even if a state has automatically extended the employee's driver's license because of COVID-19, employers should enter the expiration date as printed on the employee's document when creating the E-Verify case.
Reminders
Employers are required to complete an employee's Form I-9 within three days of their first day of work. The DHS has temporarily suspended the physical presence requirement for fully remote workplaces. Additional information is available in Comply here.
Helpful questions and answers on temporary I-9 and E-Verify policies have been created by the U.S. Citizenship and Immigration Services and are available here.
Copyright 2020 ThinkHR Corporation.
Updated: Wednesday, May 6th, 2020
Can we screen employees returning to work for COVID-19?
Answer:
Yes. Generally, inquiries about an employee's health or a medical exam (like a temperature check) would not be allowed, but the Equal Employment Opportunity Commission (EEOC) has stated that screening employees for symptoms of COVID-19 is allowed since it is a direct threat to others in the workplace. Because of that, you may inquire about symptoms related to the virus, require self-reporting by employees, and take employees' temperatures. Known symptoms of COVID-19 include fever, cough, chills, shortness of breath or difficulty breathing, muscle pain, headache, sore throat, and sudden loss of taste or smell. As the medical community learns more about COVID-19, additional symptoms could be added to this list. Employers can check this page for currently recognized symptoms. If you decide to do screenings, make sure you screen all employees; otherwise you may find yourself in the middle of a discrimination claim. And remember that all information about employees' health—including a lack of symptoms or temperature—must be kept confidential.
Updated: Tuesday, May 5th, 2020
WCIRB Governing Committee Approves Special Regulatory Filing in Response to COVID-19
Earlier today, in response to the impact of the coronavirus disease 2019 (COVID-19) pandemic on California employers and workers, the Workers' Compensation Insurance Rating Bureau of California (WCIRB) Governing Committee voted unanimously to make a special regulatory filing to the California Insurance Commissioner.
Read more HERE.
Updated: Thursday, April 30th, 2020
A top concern of HR departments is how to effectively manage layoffs, furloughs, and recalls as a result of the pandemic.
Please join ThinkHR, our HR portal for BIS customers, for their upcoming webinar on Wednesday, May 6th as Kara Govro, Senior Legal Editor, addresses the compliance aspects of layoffs, furloughs, and recalls to help employers navigate these difficult decisions.
During this 60-minute informational webinar, Kara will also answer your live HR questions about COVID-19 related issues impacting your small business.
Can't make the live webinar? Register here, and they'll send you a recording.
Updated: Wednesday, April 29th, 2020
BenderU is hosting two new webinars relating to COVID-19. Click below to register…
Monday, May 4th – Protecting Your Employees & Cal/OSHA Requirements Related to Coronavirus – REGISTER HERE
Wednesday, May 6th – COVID + Construction: What to Expect – REGISTER HERE
Updated: Tuesday, April 28th, 2020
Cal/OSHA Guidance for Employers
Cal/OSHA Interim Guidelines for General Industry on 2019 Novel Coronavirus Disease (COVID-19)
Guidance on Requirements to Protect Workers from Coronavirus
Updated: Thursday, April 23rd, 2020
Gov. Gavin Newsom on Wednesday said there is no date to ease coronavirus shelter-at-home restrictions and reopen California's economy, as the six indicators he initially outlined for reopening the state have yet to be realized. Learn more HERE.
Updated: Wednesday, April 22nd, 2020
COVID-19 will be 'largest event in insurance history,' says Chubb CEO
"We're in an unprecedented moment of historic proportions," Greenberg said on the call Wednesday. "None of us living today has experienced an event of this nature or magnitude. It is at once surreal and catastrophic. As a country, we will manage through and heal both our society and economy, and it will take time."
Read full article HERE.
Updated: Tuesday, April 21st, 2020
Our HR resource for clients, ThinkHR, offers "Frequently Asked Questions Regarding COVID-19" among other HR resources. To peruse the questions and see their answers, click HERE.
Updated: Thursday, April 16th, 2020
Our own Lisa Bracero was recently interviewed on the evolving remote work environment and what issues employers should be concerned about when it comes to liability. Click HERE to learn more.
Updated: Wednesday, April 15th, 2020
ESM, a firm that Bender has a strategic partnership with for managing our customers' workers' compensation claims, is closely monitoring the COVID-19 pandemic and how it is impacting the workers' compensation system. ESM has developed a COVID-19 Compliance Center to help employers navigate through this time.
The Compliance Center provides downloadable and actionable resources to manage and minimize the impact of the pandemic.
Resource include:
Exposure Control Plan and supporting resources
Remote Work Program and ergonomic strategies
Blogs, trainings, tools and webinars to keep employers informed
UPCOMING: Back To Work, Back To Safety – tools for "re-hire" safety orientation
Updated: Tuesday, April 14th, 2020
Commercial Insurance Update – California Insurance Commissioner Orders Insurers to Return Premium to Businesses Affected by COVID-19
On the morning of 4/13/20, the CA insurance commissioner issued a bulletin mandating insurers of certain lines of coverage in California (see below) to issue premium refunds for the months of March and April to policy holders adversely impacted by COVID-19. This order could be extended further to May and beyond if the shelter-in-place directive continues.
Some carriers, notably auto insurers, have already proactively acted on premium refund initiatives of their own. This order broadens the population of carriers who will now engage in providing relief to impacted policyholders.
LINES OF COVERAGE IMPACTED
• Private passenger automobile insurance
• Commercial automobile insurance
• Workers' compensation insurance
• Commercial multiple peril insurance
• Commercial liability insurance
• Medical malpractice insurance
• Any other line of coverage where the measures of risk have become substantially overstated as a result of the pandemic.
FORM OF RELIEF TO BUSINESSES
• Carriers have some discretion as to how to process the refunds. They may come in one of the following forms: premium credit, reduction, return of premium, or other appropriate premium reduction.
TIMING
• The guidance is for each insurer to act as quickly as possible but no later than 120 days from the date of the bulletin (April 13, 2020). Each carrier has been given a 60-day deadline to report to the CA Insurance Commissioner actions taken or planned in response to this directive.
WHAT TO DO NOW
• Questions remain around how each carrier will execute on this order. Your insurance representative can advise around company qualifications, tracking and record keeping and your carrier(s) plan for compliance and timing of action.
Updated: Monday, April 13th, 2020
Personal Insurance Update – Personal Insurers Respond to Aiding Relief During COVID-19 
We are proud to share that our industry is responding quickly to this fluid situation, and that most of our personal auto insurance companies have stepped up to offer options to our customers.
All of our insurance companies are handling this differently:
Some have offered to allow insureds to adjust their annual commute mileage
Some have elected to refund a portion of premiums (15%-20% of the premiums paid in April and May)
Some are still firming up their offering to customers
As your advocates, we are closely following this evolving situation, and will communicate the same to you. Please don't hesitate to reach out to your Account Manager if you wish to explore some of these premium saving options.
Updated: Thursday, April 9th, 2020
Looking for an interactive and updated US map on COVID-19? CLICK HERE
Updated: Wednesday, April 8th, 2020
Billing and Service
We're committed to your success and want to ensure our clients don't suffer additional hardship as a result of the COVID-19 pandemic. If you're concerned about the payment of your insurance premium, due to COVID-19, please contact your Account Manager or Account Executive to learn more about carrier payment options.
Updated: Tuesday, April 7th, 2020
The BIS Benefits Team has put together some very helpful resources to assist during this pandemic.
For DOL Guidance on Families First Coronavirus Response Act: CLICK HERE
For Benefit Considerations in Light of Employee Terminations/Layoffs: CLICK HERE
For Health Coverage and Employee Leaves of Absence During Coronavirus: CLICK HERE 
For News About the COVID-19 Stimulus Package: CLICK HERE
Updated: Tuesday, March 24th, 2020
As insurance services fall under "Financial Institutions", Bender Insurance Solutions is allowed to remain open under the Shelter-in-Place State Order that Governor Newsom instated on 3/19. With that being said, we are still asking all BIS team members that can work remote to continue doing so. As of now, our Director of First Impressions, the Facilities Clerk/IT Liaison, and our Managers will be coming into the office. We will continue to operate our business as we always have with slight modifications to certain processes. We are still not accepting walk-in appointments and encourage all clients and contacts to connect directly to your BIS team member via email or direct line.
Updated: Tuesday, March 17th, 2020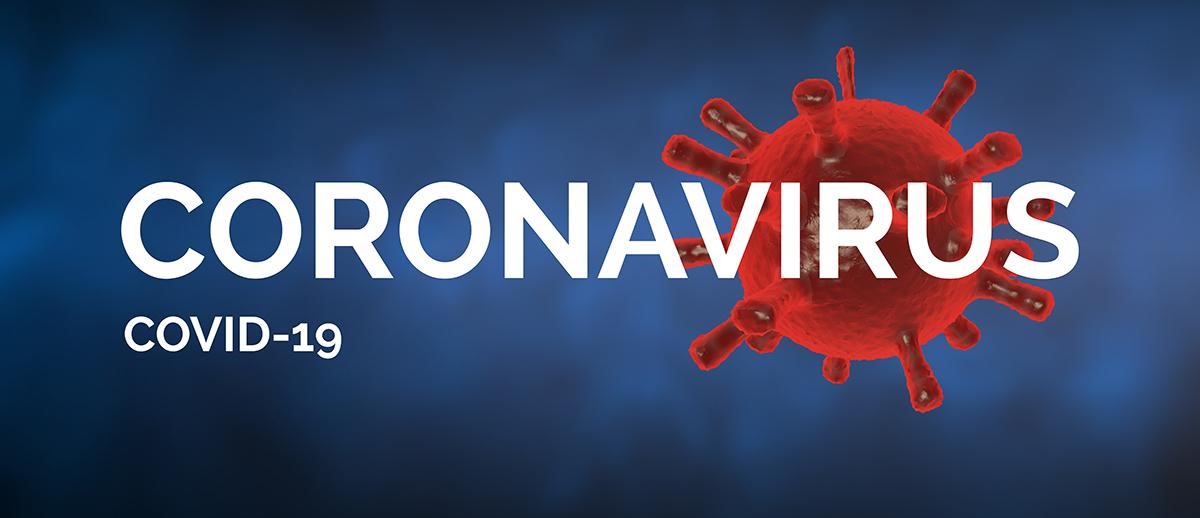 To All BIS Customers:
As the daily news cycle continues to offer headlines from the world response to the COVID-19 outbreak –the following is an update from Bender Insurance Solutions (BIS) as to how we are currently managing operations for our customers, business partners and staff.
Our systems are performing well: BIS continues to accommodate customer's needs. We have seen an increase in web activity as well as phone calls.
•    BIS customers can continue to reach us by phone Monday – Friday, between 8:30am and 5:00pm.
•    BIS staff will meet with you or your team, virtually, via GoTo meeting or conference call.
•    BIS is limiting guest visits to our office for the foreseeable future. Please contact your Account Manager to schedule a virtual meeting, should you need one.
All BenderU Seminars scheduled for the next 30 days have been postponed. In addition to this notice we are calling all BenderU registrants to update them on this change.
We've taken steps to protect our staff. In addition to ensuring full continuity of service, BIS is also focused on ensuring the health and well-being of our employees.
BIS is encouraging team members who can successfully work from home to do so. Our offices remain open, with all safety precautions in place (deep cleaning, etc.), and building services are fully operational. Our goal is to increase social distancing and reduce risk by limiting the number of staff in our corporate office. Our team will be reaching out to customers with scheduled meetings to discuss what is best for all involved.
We are delaying all air travel. Out of an abundance of caution for our employees and members, we believe this is right thing to do in the current environment.
All events and group meetings requiring air travel are being postponed. We have video and conference-calling technology that can be employed as a replacement for in-person meetings. Our Account Managers who support our customers will operate business as usual, unless restricted from doing so.
BIS recognizes that we are in a fluid and unique global situation. As conditions change, we will continue to monitor the need to continue or adjust these changes in partnership with those we serve.
Links:
Cal/OSHA Coronavirus Website:
https://www.dir.ca.gov/dosh/coronavirus/Health-Care-General-Industry.html
Fed OSHA Coronavirus Website:
https://www.osha.gov/SLTC/covid-19/
CDC Coronavirus Website:
https://www.cdc.gov/coronavirus/2019-ncov/index.html
Check back to this post for updates as this situation develops.